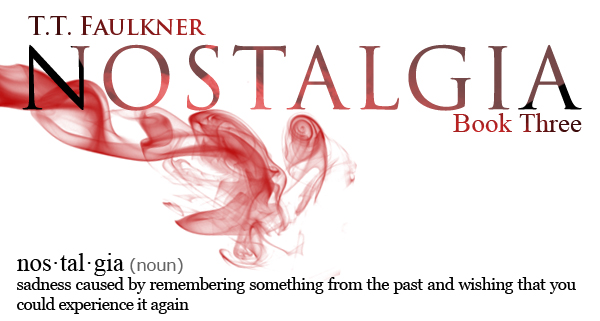 When Therin, the Chronographer of Blood, threatens to tear down the barrier between worlds, Noah and his friends are again forced into action.
As Luna adjusts to an unfamiliar body and Noah adjusts to an unfamiliar Luna, a revolution rises in the Plane of Gods. The beasts and nightmares are being gathered, and their vampiric leader has his eyes set on uniting the worlds. Along with a temperamental werewolf and a fast-talking drop bear, the group will have to band together to stop Therin before total war breaks out. But this Chronographer doesn't take memories, he devours them.
In this final epic struggle to save both words, the Trilogy of Memories comes to a close. But with a threat so powerful, will anything ever be the same?
The third book in T.T. Faulkner's Memory Trilogy, Nostalgia is a young adult fantasy novel. To order the last memory on Kindle or Soft Cover, visit our store page or Amazon.com
Praise for The Last Memory.
"What a thrilling end to the Memory Trilogy!"
- Amanda Babcock, My Favorite Books